Tech giant Snapchat wanted a unique, hangout space for employees to decompress on their Santa Monica campus. We gutted the trashed interior of a vintage Spartan trailer and converted it to a cozy lounge and cafe.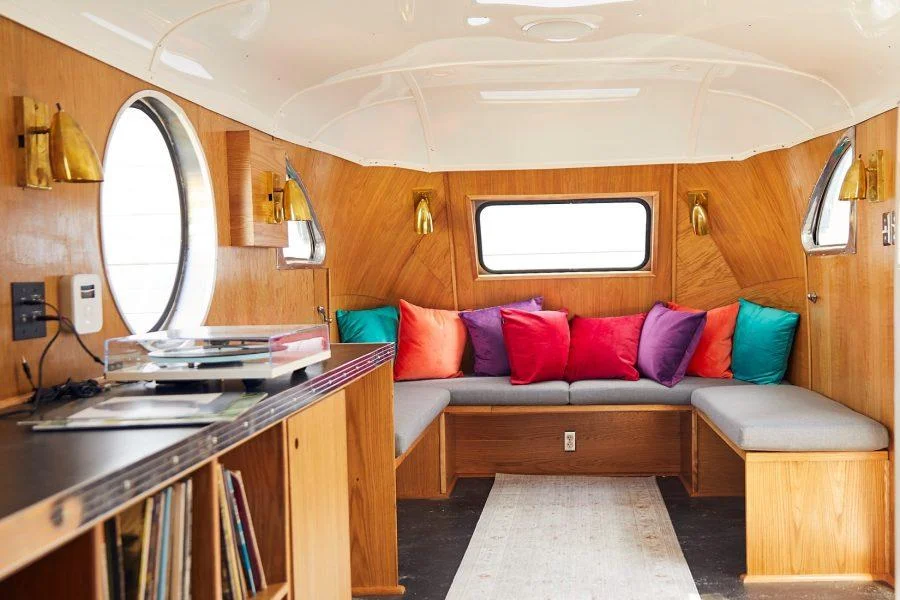 "At Snap, we believe that reinventing the camera represents our greatest opportunity to improve the way people live and communicate. We contribute to human progress by empowering people to express themselves, live in the moment, learn about the world, and have fun together."
Our goal? Reproduce a charming, mid-century vibe while retrofitting the trailer for modern use. 
The original brass sconces were salvaged and reconditioned.
Period-appropriate Marmoleum flooring was sourced and installed.
The interior walls and custom cabinetry were finished in walnut.
A vintage fridge was color matched and custom painted in the same cream as the ceiling.
An old school record player with a high-end audio system enhanced the chill vibes.
Increased the size of the original porthole window
Converted the single entrance door into an oversized, architectural folding door with an integrated serving window for walk up treats. When not in use, the serving window looks like a normal pane of glass in the door. Firefly custom-engineered the floating, frameless glass pane to be durable enough to hinge up for order taking without breaking. 
 25% of the trailer was dedicated to a mini commercial kitchen serving up ice cream and espresso.
Instead of building out a boring and costly brick and mortar building, Snapchat opted for this creative employee lounge and cafe space to inspire their Santa Monica team.
Of course, no cafe would be complete without refreshments! With a high capacity Taylor brand soft serve machine and commerical-grade espresso maker, Snapchat has the flexibility for employees to serve themselves or hire staff to pump out hundreds of break-time treats.
What a great investment to prevent burnout and boost team productivity!
And because custom food trucks and trailers hold their value (unlike brick and mortar buildouts), they could easily sell the trailer and recoup their investment should the need arise.
Ready to build an experiential MARKETING Vehicle with firefly?
Firefly partners with your brand or agency to deliver an exciting, beautiful and reliable experiential marketing vehicle. From "standard" food trucks to unique custom builds, our experienced team can engineer anything for your next activation or marketing tour. We make buisness mobile.
Every new build comes with a Firefly Warranty
Your success is our success. We stand behind our work with an industry-leading, 2-year warranty on every new build so you can spend more time connecting with customers and less time in the shop.