Already available at CVS stores nationwide, Buoy wanted to make a splash with their hydrating drops by targeting wellness-obsessed, Millenial women. Firefly suggested customizing our towable, "Horseshoe" marketing trailer kiosk design to create a flexible solution that could be used to host marketing activations, sample products, and boost sales  for years to come.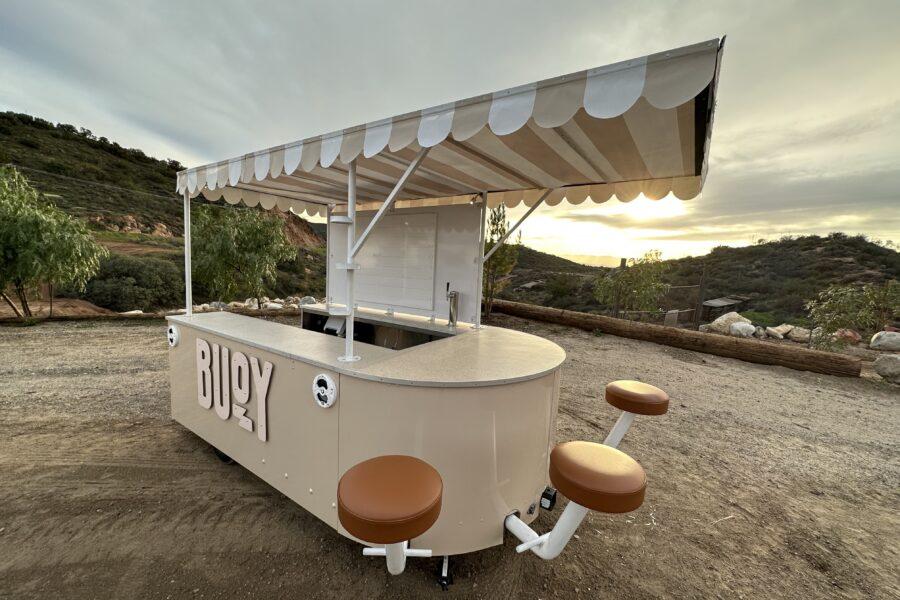 "Unsweetened and unflavored hydration and trace mineral drops for all the drinks you're already drinking…
Buoy meets at the intersection of efficacy and sustainability: clean, bioavailable ingredients in a convenient, fast-absorbing form factor made from recycled materials.
And we're dedicating our brand and its resources to the community that needs it the most: people living with chronic illnesses."
10' Horseshoe Marketing Trailer Kiosk with removable trailer tongue
The unique "Horseshoe" design has no trailer deck which means brand ambassadors stand eye-to-eye with customers
Street legal with VIN and Certificate of Origin (MCO/MSO)
Ultra-lightweight design can be safely towed with a small car
Custom upholstered stools, solar panel, speaker system, letter board menu, removable striped awning, laminate countertop, and laser cut standoffs with vinyl wrap to match Buoy branding
Equipped with under-counter cooler and nitro tap to serve beverages
Can be powered by roof-mounted solar panels or by plugging into a standard 110V outlet reinforcing Buoy's commitment to sustainability
LED underbody lighting and gooseneck task lighting makes this experiential trailer functional both day and night
72 cubic feet of under-counter storage
The Buoy experiential trailer is currently being used as a pop-up on trendy Abbot Kinney Blvd in Venice, California. With retail property on Abbot Kinney leasing for $15/sqft per month, this mobile trailer is an affordable alternative to access a valuable target market of wealthy residents and 16 million annual visitors. The Buoy trailer's reach is boosted beyond first person experiences via impressions on Buoy's social media channels like TikTok.
For now, this inviting little trailer is growing Buoy's brand awareness by sampling product on this high foot traffic thoroughfare. But if Buoy's strategy changes in the future, the trailer will easily adapt. The Buoy trailer functions equally well as an interactive booth at conferences as it does street vending on a nationwide, experiential marketing tour. At a fraction of the price of a retail store, The Buoy trailer is a small investment that we hope will continue paying big marketing dividends as the company grows.
Ready to build an experiential MARKETING Vehicle with firefly?
Firefly partners with your brand or agency to deliver an exciting, beautiful and reliable experiential marketing vehicle. From "standard" food trucks to unique custom builds, our experienced team can engineer anything for your next activation or marketing tour. We make buisness mobile.
Every new build comes with a Firefly Warranty
Your success is our success. We stand behind our work with an industry-leading, 2-year warranty on every new build so you can spend more time connecting with customers and less time in the shop.