The national cabinet brand, Semihandmade, wanted to put their new product line BOXI into the hands of designers, contractors, and DIY home renovators. We partnered with Semihandmade's designers to bring a show-stopping mobile showroom to life.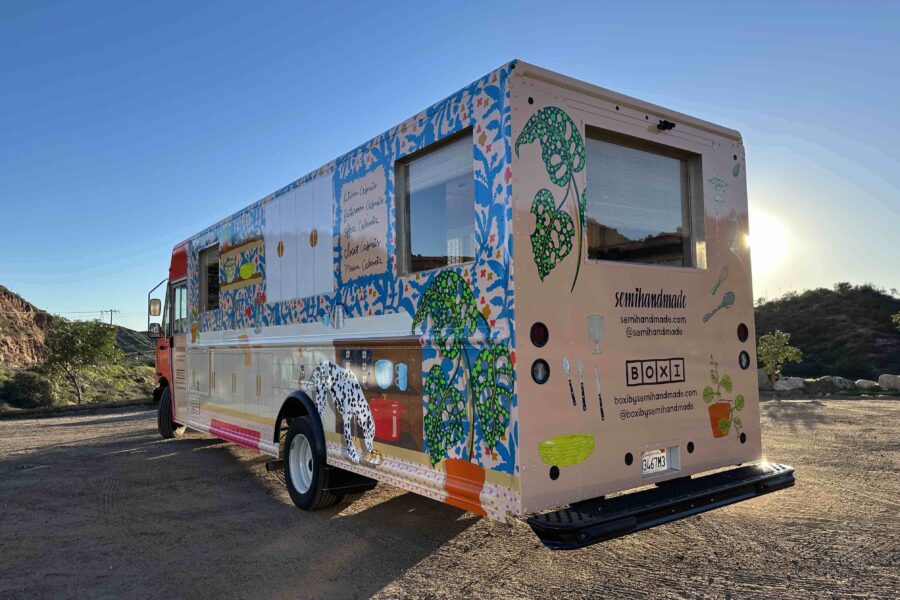 "We're BOXI. Our story began in 2011, with Semihandmade.
The goal then was simple: use Ikea cabinets as a base to offer handmade craftsmanship at a competitive price. Ten years and 20,000 projects later — with the validation of design industry notables and nearly $20MM in annual revenue — we saw an even bigger opportunity: to launch a modern cabinet system for every room in the home that is American-built, high-quality, well-priced, and ships quickly. Did we mention they come pre-assembled, too?
After all, it's a different world than when we started a decade ago. Everyday, we get household items delivered straight to our doors. What makes cabinets any different? Enter BOXI by Semihandmade. Home space, and homelife, finally made simple."
We built this BOXI showroom on the chassis of an 18' stepvan truck to be a beautiful jewel case that showcase the brand's newest line of cabinets. The challenge for us was to create a truck that felt like a residential kitchen while still meeting all the needs of a public, commercial space.
Windows were an important tool to achieving this goal. Large architectural windows on one wall create an aerie feel while a smaller window is centered over the sink and framed by BOXI cabinets. Laminate flooring is both durable and lends a residential vibe. Streamlined finishes, colorful accents, and a maximalist exterior wrap reflect current home decor trends embraced by BOXI's target customer segment.
Semihandmade made a name for themselves creating quality cabinet doors that hang on Ikea's standard cabinet bases. This revolutionized the home renovation world by making a custom kitchen available to everyone at an affordable price point.
With a product line that democratizes design and core values that include mutual respect, accessibility was at the forefront of the showroom's design. To make the showroom universally accessible we installed a BraunAbility wheelchair lift and widened the aisle to 36". And, taking a page from Ikea, we planned for two doors – one to enter and one to exit – to keep any line moving.
We're excited to see the BOXI truck from Semihandmade tour design expos and events across the country for years to come!
Ready to build an experiential MARKETING Vehicle with firefly?
Firefly partners with your brand or agency to deliver an exciting, beautiful and reliable experiential marketing vehicle. From "standard" food trucks to unique custom builds, our experienced team can engineer anything for your next activation or marketing tour. We make buisness mobile.
Every new build comes with a Firefly Warranty
Your success is our success. We stand behind our work with an industry-leading, 2-year warranty on every new build so you can spend more time connecting with customers and less time in the shop.