Mayfield Dairy prides themselves on partnering with 13,000 family-owned dairy farmers to create quality milk and ice cream made from fresh cream. We jumped at the opportunity to help this 100-year old Southern dairy brand launch a regional food truck marketing tour.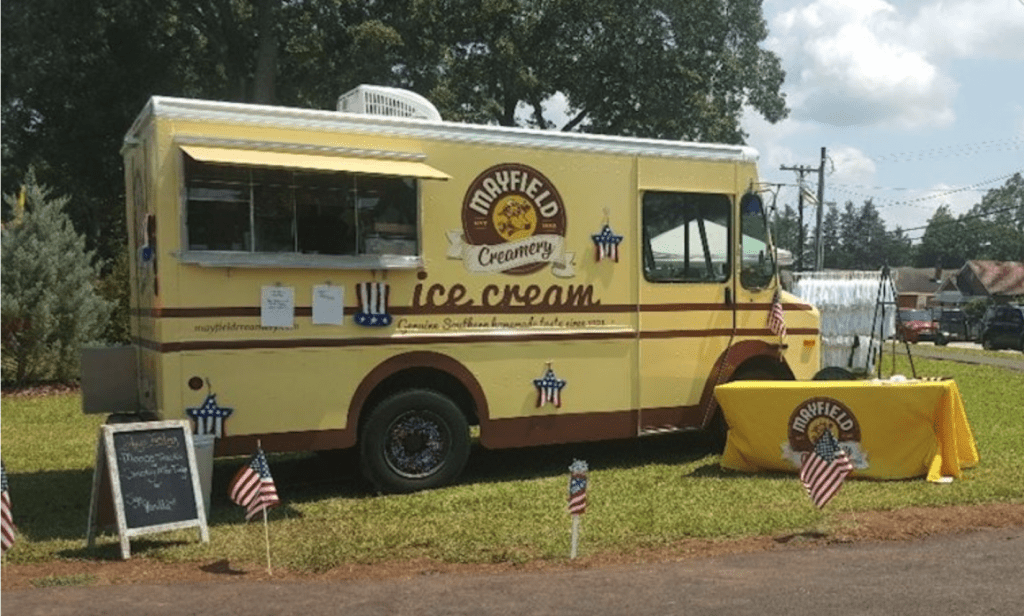 "For over 100 years, Mayfield has been delighting Southern families with our wholesome milk and world-famous ice cream. And although times have changed, our approach remains the same. Farm from the heart. Accept no shortcuts. And always take care of your community. That's the Mayfield Way.
Mayfield Dairy is a farmer-owned brand of Dairy Farmers of America (DFA), a dairy marketing cooperative that is owned by more than 13,000 family farmers. As a cooperative, profits from every glass of milk, scoop of ice cream and dollop of sour cream go to support the DFA's farmers and their families, so they can keep doing what they love — helping us deliver the best possible dairy products you love every single day.
At Mayfield, we're committed to being a trusted source of dairy for your family. We never forget how fortunate we are to be invited into your home, and we earn our place by holding ourselves to the high standards of dairy."
With community and tradition being key values for this brand, Mayfield Dairy wanted to go back to their roots and target Southern families. And everyone knows ice cream pairs perfectly with family-friendly summer fun. 
For this experiential marketing campaign, the client planned a packed schedule of 48 activations over 12 weeks. With so much driving, a smaller truck would make the campaign easier, cheaper and safer. However, Mayfield had specific freezer requirements to match their product's needs including a huge Master-Bilt dipping freezer. Ultimately, we were able to fit all the appliances they needed to accommodate the high-volume sampling throughput within a 14' kitchen footprint.
Through sampling, giveaways and activities, brand ambassadors created engaging and shareable moments with families across the South. The "Mayfield on the Move" ice cream truck team successfully reconnected with their community and customer base, giving away:
120,000 ice cream samples
130,000 coupons
11,000 premiums
Wow! While this experiential marketing tour targeted Atlanta and the Carolinas in 2017, the
Mayfield
ice cream truck 
continues to serve
 its community with local sampling events.
Ready to build an experiential MARKETING Vehicle with firefly?
Firefly partners with your brand or agency to deliver an exciting, beautiful and reliable experiential marketing vehicle. From "standard" food trucks to unique custom builds, our experienced team can engineer anything for your next activation or marketing tour. We make buisness mobile.
Every new build comes with a Firefly Warranty
Your success is our success. We stand behind our work with an industry-leading, 2-year warranty on every new build so you can spend more time connecting with customers and less time in the shop.