This Boston based wine company launched a marketing truck to help promote their e-commerce site, wine club and wine label partners. The #MakeLifeBubbly wine truck capitalizes on the rosé and bubbly trend to grab the attention of 90+ Cellars target demographic: Millennial women.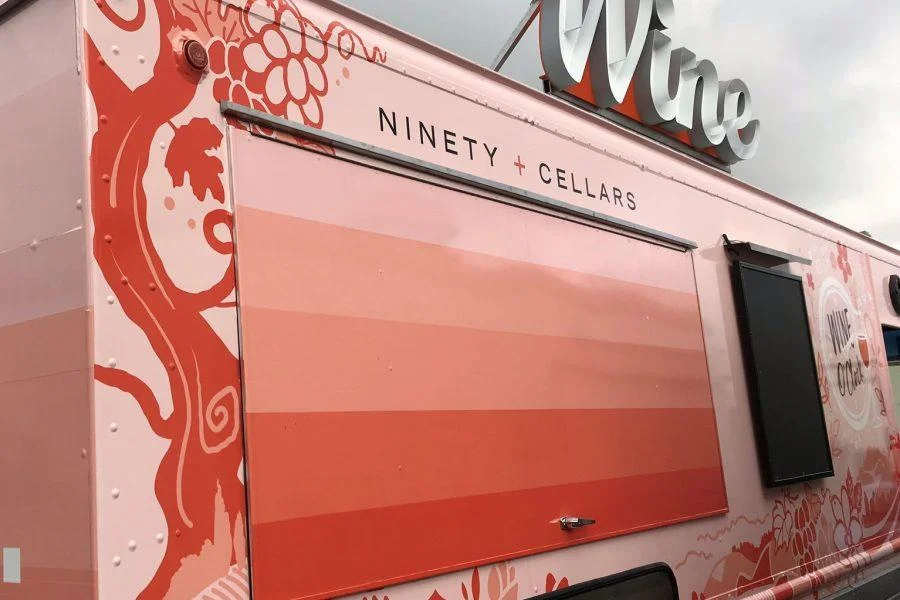 "In 2009, 90+ Cellars founder Kevin Mehra set out on a mission to bring higher quality wine to the market for a better price. He started calling wineries with a history of high ratings to ask if they had wine for sale. Some told him to get lost, but in the end, he found a handful of wineries that liked his concept. The plan was simple: we put their wine behind our label, and sell it for less…
Today, 90+ Cellars works with dozens of acclaimed wineries and vineyards all over the world to curate a portfolio of fine wines that represent the best values on the shelf. We do this because we love great wine, and we want to make drinking great wine easier and more affordable for you."
Handmade "Wine" channel letter sign informs and attracts target audiences
Bright coral and white branded wrap that acts as a mobile billboard for effective marketing even when the truck isn't in use. Colors align with both the 90+ Cellars brand colors as well as the rosé wine they promote
Truck wheels are color matched to the wrap for a finished appearance
Epoxy-sealed wood countertops evoke wine barrels, but are also practical and easy to clean 
Sun bleached, reclaimed wood truck skirt provides earthy texture and dimension
Chalkboard menu next to the serving door is both functional and adds an artisanal touch with handwritten lettering
Astroturf interior wall adds character and literally "greens" the inside of the food truck creating a dramatic color contrast with the exterior wrap
The goal of the #MakeLifeBubbly activation was to create an instant tasting room anywhere and this wine truck delivers. The 5500 watt gas generator powers a bar back refrigerator to chill wines, Bluetooth stereo system, merch display case, air conditioning unit, and color balanced lighting system.
When fully staffed with bartenders that double as brand ambassadors, this mobile marketing vehicle is a powerful experiential marketing tool that's built to attract and entertain Millennial women. 
The truck continues to promote 90+ Cellars' brand and its partner wine labels at summer events around the Boston area.
Ready to build an experiential MARKETING Vehicle with firefly?
Firefly partners with your brand or agency to deliver an exciting, beautiful and reliable experiential marketing vehicle. From "standard" food trucks to unique custom builds, our experienced team can engineer anything for your next activation or marketing tour. We make buisness mobile.
Every new build comes with a Firefly Warranty
Your success is our success. We stand behind our work with an industry-leading, 2-year warranty on every new build so you can spend more time connecting with customers and less time in the shop.