This Washington state winery launched an experiential marketing campaign to set themselves apart in a crowded and competitive wine market. With the brand inspired by the spirit of wild horses, the 14 Hands "Run Free Road Trip" centered around a mobile bar cleverly fabricated from a repurposed horse trailer.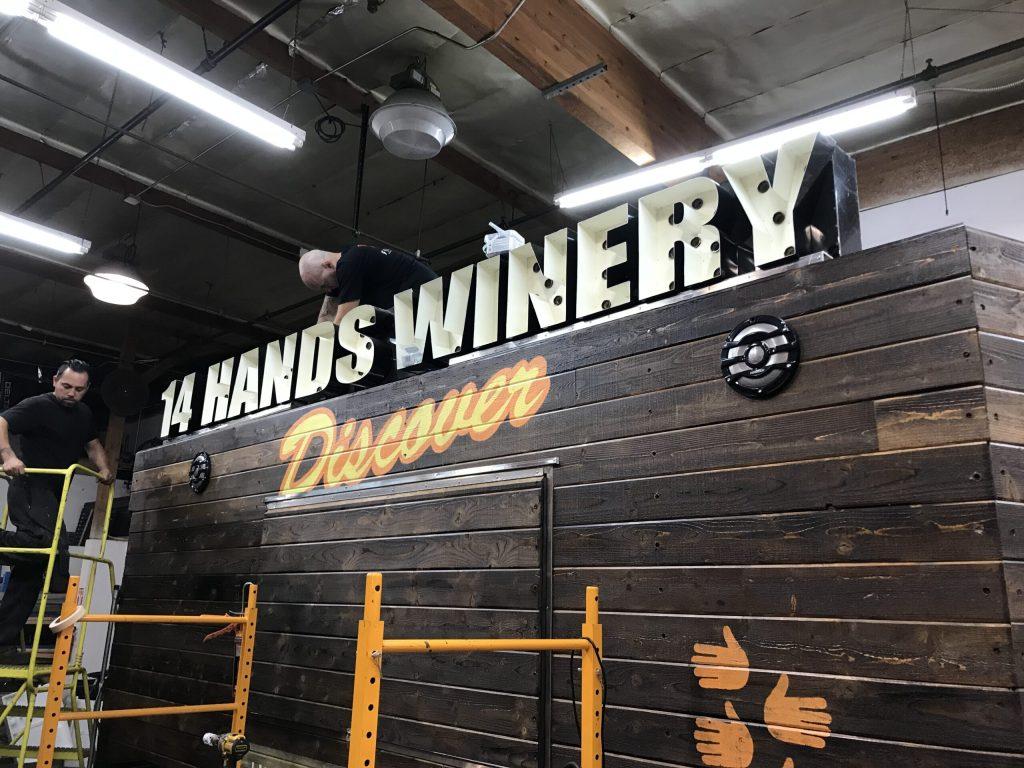 "Washington's wild horses have become living symbols of the adventurous nature of the American West. The essence of these horses lives on in the vast landscape that has sustained those determined enough to work it for generations. Loamy sand and gravel soils require a strong and determined grapevine, and our acclaimed vineyards revel in Washington's world-class terroir. 
With the fruit from the hardy vines, our Prosser winery handcrafts big, fruit-forward reds and crisp, juicy whites that pay tribute to the legend of the region. Like the untamed horses we honor with our name, our wild and wonderful wines pack a lot of character into each bottle."

14 Hands opted to keep the interior simple, but go all-out on the exterior of the vehicle to get the best bang for the buck. The exterior finish is hand-distressed barnwood with hand-painted accents including a mural of wild horses that celebrates the brand. A vintage-style channel letter sign grabs attention and advertises the product.
But, the most show stopping aspect of the trailer may be the Instagrammable selfie wall on the rear of the vehicle. The collage of license plates is a nod to all the different states the bar trailer would be visiting during its experiential marketing tour. To protect it during transit, the license plate wall breaks down into three parts and is stored in the trailer.
Inside, we installed three huge Taylor brand granitas machines to serve free wine granitas to the brand's target customer segment – millennials – at musical and food events. This was the perfect literal and metaphorical vehicle to hype 14 Hand's new lineup of canned wines for sale at retailers across the U.S.
When this wine trailer isn't serving up "frosé" and other fruit forward varietals at venues around the country, it retires to the 14 Hands vineyard in Washington state. But this mobile bar isn't just put out to pasture. Instead it has a second life extending the winery's capabilities by hosting profitable tastings and catering events on the brand's vineyard property.
This horse trailer turned experiential marketing vehicle is truly an investment that will pay long-term dividends for 14 Hands Winery.
Ready to build an experiential MARKETING Vehicle with firefly?
Firefly partners with your brand or agency to deliver an exciting, beautiful and reliable experiential marketing vehicle. From "standard" food trucks to unique custom builds, our experienced team can engineer anything for your next activation or marketing tour. We make buisness mobile.
Every new build comes with a Firefly Warranty
Your success is our success. We stand behind our work with an industry-leading, 2-year warranty on every new build so you can spend more time connecting with customers and less time in the shop.